Cycle Sessions and Sufferfest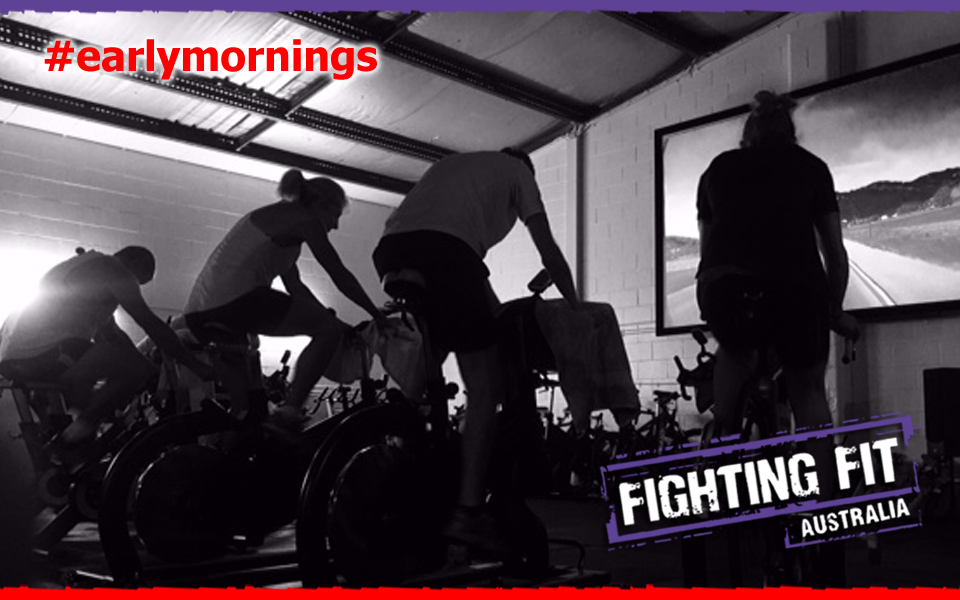 High Intensity Interval workouts for the cycle enthusiast. Done in front of some of the best cycling training videos in the world. High-intensity interval workouts designed by world-class coaches, amazing music, clear instructions and official footage from the Tour de France, World Championships and more.
Clear On-Screen Instructions, Clear even through tears of pain, agony and misery. You'll be told exactly what to do, when and how to do it with clear, easy to understand instructions, dials, timers and sound effects. No excuses for not following those attacks, now.
WHERE TO MEET
Fighting Fit Australia – 2018 Timetable
WHEN ARE SUFFERFEST SESSIONS?
Tuesday & Saturday @ 5am
What time suits you to Suffer?
These sessions need to be booked in advance before participating. Alternatively these can be done at anytime in your own time, you just need to contact us in advance.

WHEN ARE PEDAL SESSIONS LED BY AN INSTRUCTOR?
Monday at 5am.
We are currently looking for an Instructor for our Tuesday Pedal to Pavement class…in addition we are offering a Sufferfest session at 5am on a Tuesday.

If these classes prove to be popular then we will look at adding a third.

HOW LONG
Each session will run for 45-60 minutes.
COST
$60 a month for your first 3 months unlimited.
Pay by the session $15
Weekly prices: 2 sessions $25
3 sessions $35
4 sessions $40
5 session or more $50
Students under 22yr $30 (unlimited weekly)
Teens $5 (pay by the session)/$20 (weekly)
School term $75 (discounts apply for more than 2 Teens)
NOTE: You will be placed onto our Direct Debit system (unless special circumstances), please note DD can be placed on hold or cancelled at no cost.
WHAT TO EXPECT AT SUFFERFEST
Sufferfest structure high-intensity interval workouts, designed by coaches of the stars like Neal Henderson of Apex Coaching and Stephen Gallagher of Dig Deep, all have a specific purpose. Whether you want to improve climbing, sprinting, speed or power in your sport, we have the session for you. Suitable for beginners to the professional athletes.  Sufferfest will motivate you to push further than you thought possible. Great soundtracks, The workout makes you suffer, not the music. We love music, so only great songs will do for our videos. We source from amazing bands that have become favourites of Sufferlandrians around the world. Storylines that suck you in. Push yourself harder than you ever thought possible…Even on those days you don't want to train, the engrossing story lines in our videos will make you forget everything else around you. Our enterPAINment will get the most out of you – sucking you in and then spitting you out a sobbing, wretched glorious mess. And you'll be better for it.
WHAT TO EXPECT IN OUR PEDAL SESSIONS
Our cycle classes are a specific format of indoor cycling. Cycle is a cardio workout set to music either finished with a road run or pilates session. All classes will be 60 minutes. These classes are great for those who want a motivating workout that they can control at their own pace. Even if you're not into choreography-based fitness classes, you can still enjoy cycle because these classes involves neither rhythm nor complex moves. It's low-impact, so it's very suitable for people who want to balance out higher-impact exercises (like running) or for people who have some joint problems.
WHAT TO WEAR
Wear comfortable workout attire consisting of a t-shirt, shorts or tracksuit if preferred along with sturdy and supportive cycle/running footwear.
WHAT TO BRING
Water bottle, a positive attitude and a great big smile.
COACHES
Although you don't need a coach in front of you for the Sufferfest sessions …our coaches are still around to motivate you, provide a fun, friendly, welcoming training environment and most importantly teach you the movements safely and effectively and progressing you each and every week. You will however be led by a qualified, energetic and motivating coach for the Wednesday 5am pedal session.
REGISTER NOW