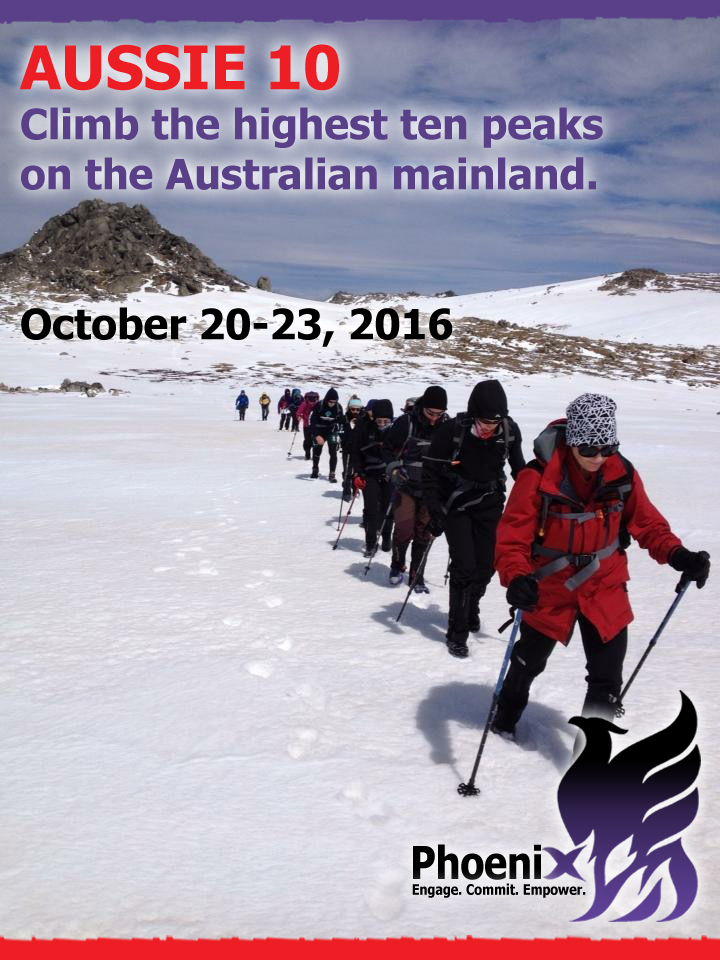 Introduction
Climb the highest ten peaks on the Australian mainland with Phoenix Adventures! All ten peaks are located in the beautiful and rugged Kosciuszko National Park, which is about a two-hour drive from Canberra. This is a challenging but acheivable trek with good preparation and a good attitude! You'll also be well-looked-after by experienced trekking guides. The scenery of the Kosciuszko National Park is stunning especially in October when much of it will be covered in snow.
Itinerary
Day 1(Thursday) – Arrive in Canberra late morning and drive up to the comfortable and picturesque Lake Crackenback Resort near Jindabyne in time to prepare our gear for the following day and have a trek briefing.
Day 2 (Friday) – After an early breakfast we drive to Charlotte Pass to begin the trek. Today we'll walk six of the peaks, Abbott Peak, Caruthers Peak and then down through a valley and up to the ridge for Alice Rawson Peak. Mount Townsend, Mount Twynam and Byatt Camp. This is the biggest day so prepare to be out on the mountains for around 10 hours.Then it's back to Lake Crackenback Resort for dinner and a well-earned rest.
Day 3 (Saturday) – We drive to Thredbo today and catch the chairlift up to the plateau. Today will be about 5-6 hours of trekking. We'll folllow the path to Kosciuszko for about a kilometre before heading towards the peaks of Ram's Head North and Ram's Head. Then we wak along a ridge to Unnamed Peak (Mount Dubious) before our final climb of the trip, up to the highest point in Australia, Mount Kosciuszko (2228 metres ASL). After this, it's an easy walk to the charlift and back down to Thredbo. We'll drive back to Lake Crackenback for a celebratory dinner with the satisfaction of having conquered the highest ten peaks on the Australian mainland in two days!
Day 4 (Sunday) – After breakfast, we'll drive back to Canberra. Depending on flight times, there may be time for a visit to the war memorial.
Date
20th to 23rd October 2016
Inclusions
All meals from arrival in and departure from Jindabyne. This includes three breakfasts and  dinners at the Lake Crackenback Resort and lunches & snacks while trekking
All accommodation: double or twin share(three nights at Lake Crackenback Resort)
Transfers to and from Canberra airport
Experienced trekking guides
Entrance fee to Kosciuszko National Park
Training walks in Toowoomba leading up to the trek and gear advice
Bring your own daypack, warm trekking clothes and comfortable, waterproof boots.
For further information … including a detailed itinerary, please contact James Holden on 0408 669 026 or email info@phoenixpowercoaching.com.au.