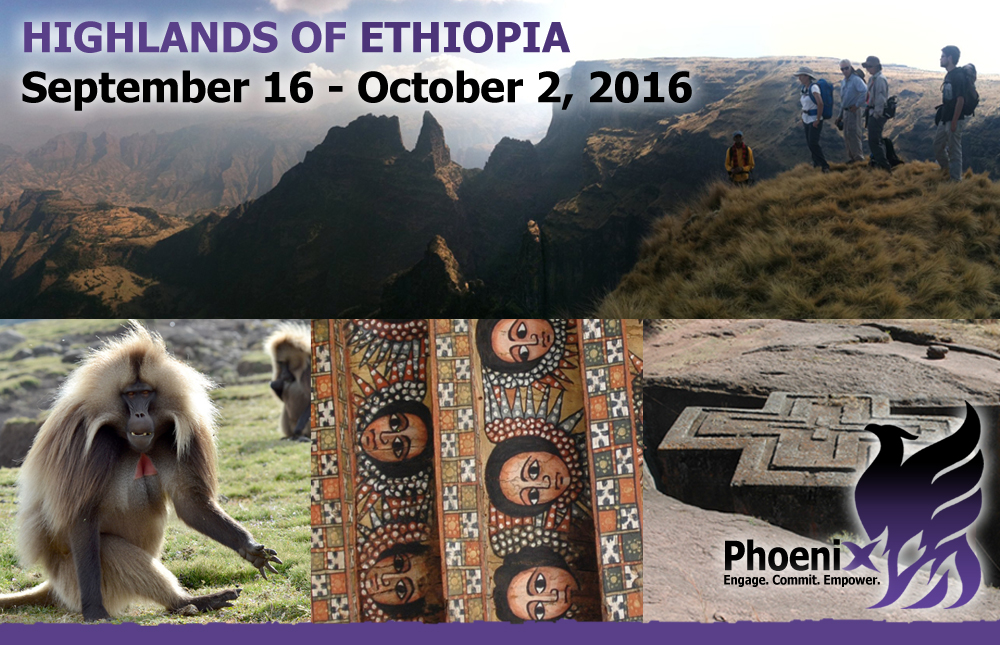 Highlands of Ethiopia
This once-in-a-lifetime trip will take you into the heart of the spectacular highlands of Ethiopia, including a week-long trek in the Simien Mountains, known as the rooftop of Africa. The trip starts in Addis Ababa, one of the highest capitals in the world. Here we'll have a tour of this bustling city with its friendly people and coffee culture.
Then we fly north to Gondar, the Camelot of Africa, so-called because of its castles built by a succession of emperors in the 16th and 17th centuries.
The following day we drive to Debark, on the edge of the Simien Mountains National Park, and start trekking through the lowlands, taking in beautiful views of the craggy highlands. Over the next few days we'll visit remote villages where few Westerners have been. Then we'll ascend to the highland plateau to around 3500 metres ASL to Chenek, a campsite with stunning views of the escarpment and surrounding mountains. Here the walia ibex, a rare species of mountain goat, can be sometimes be seen. The final days of the trek will be spent walking along the edge of the escarpment, often among large troops of gelada, a grass-eating primate found only in Ethiopia. After reaching the last camp at Sankabar, we return to Gondar for the night.
The following day we'll fly to Lalibela to visit the UNESCO-listed 13th century churches, which are carved below ground from bedrock and joined by passageways. Finally we fly back to Addis Ababa for a celebratory dinner rich with Ethiopian hospitality and culture.
Trek in the remote Simien Mountains, taking in the spectacular and rugged Afro-alpine beauty. See amazing birdlife, endemic animals, such as the walia ibex and gelada baboons, and if we are lucky, the Simien wolf. Taste amazing coffee from the country where it was first discovered and discover Ethiopian culture, history and learn some Amharic words. Visit ancient castles and underground churches. Experienced Australian host/trek leader, highly knowledgeable local guide and legendary camp staff who cook tasty meals and transport your gear from camp to camp. Enjoy delicious local cuisine and a celebratory dinner with Ethiopian dancing.
When
16th September to October 2nd 2016
Inclusions
All breakfasts and all meals while trekking. Dinner in Addis Ababa on last night
All accommodation: double or twin share (seven nights in hotels and six nights in tents)
All transport in Ethiopia, including three internal flights
Experienced Australian trekking guide/host, highly-knowledgeable local guide and camp staff
Trekking and entrance fees in Simiens Mountains National Park
All camping gear. Bring your own sleeping bag, day pack and a large soft-covered bag
Training walks in Toowoomba leading up to the trek, and trip and gear advice.