Win a free 30 Day Fitness & Nutrition Challenge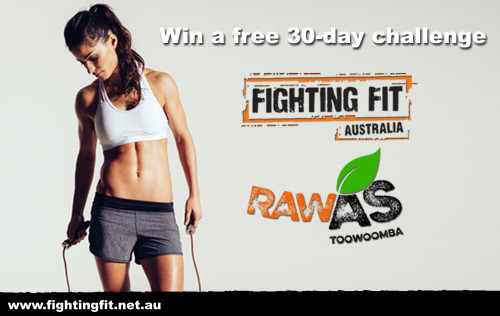 Win a free 30 day Fitness & Nutrition Challenge
Did I mention it was FREE?! This challenge is doable for both regular gym users and beginners. What a great way to get active, learn new exercise techniques and nutrition habits.
This challenge is perfect for anyone who wants to:
Lose weight
Learn how to fit exercise into your busy schedule
Learn how to eat real, unprocessed food
Find short workouts that get you moving
Learn about appropriate portion sizes
Find family-friendly, budget-friendly real food recipes and meal plans
Connect with others that share similar goals and challenges
Get weekly motivation, encouragement and accountability from certified mentors
What you need to do
You must live in Toowoomba.
Trial an open group session with Tess to be eligible to go into the draw for the "Free 30 Day Challenge" OR purchase a meal from Sherry at RawAs (quoting "30 Day Challenge").
Tag friends, family or work colleagues you think that may be interested to increase your chances of winning this challenge.
What the lucky winner will receive
Each week you will receive an email which will include:
Nutrition guide which can be implemented at home or from RawAs
Fitness challenges which can be completed at home or in our unlimited group sessions at Fighting Fit
Motivation & encouragement
You will be entitled to free open group training for the 30 Days at Fighting Fit Australia and up to 10 meals a week from RawAs.
The nutrition you can implement right away. The fitness challenge will be short workouts that are 15-30 minutes that anyone can do 3 days a week if doing from home. Or unlimited 60 minute sessions at Fighting Fit Australia. You've got 30 minutes that you can use to change your life, right?
Clean eating is the key to maintaining healthy weight and will make a huge difference in the way you look and feel. Adding even a few minutes of moderate daily physical activity can increase those results even more!
You don't need magic diet pills or to follow a restrictive diet plan – these are lifestyle changes that are easy to maintain forever!
Are you up for the challenge? What are you waiting for?
Contact info@fightingfit.net.au or call Tess on 0421 931 182.