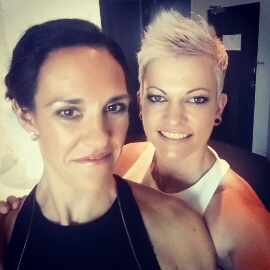 Your Partner is Priority
Have I mentioned before that Cara and I do everything together?! We work alongside each other, train together, participate in social outings together (not that this happens much), hangout together and anytime we are apart we miss each other constantly. My opinion on maintaining a happy, fulfilling and loving relationship is to constantly communicate and make effort.
You should never change who you are for any one. It is important to maintain your individuality in a relationship but at the same time if you want a content and long lasting relationship … you need to compromise and make sure you are meeting your partners needs (and wants). ✔️
I am happiest not when I am out with mates, not when I have a great week in terms of business but when I am at home hanging out with Cara and putting a smile on her face.
Think about it … you spend more time with your partner than anyone. When you are at your best they'll be there … when you are at your shittiest they'll still be there. If you want to get ahead in life and spend the majority of your time happy then it is important you don't waste time having to fix and rebuild relationships because you became selfish and were too fixated on yourself and neglected the person you are supposed to love.
My priority in life is to make Cara happy. I think by having this attitude towards your relationship, not only will you have a rewarding relationship but you will be satisfied within yourself and actually perform better in all aspects of your life.
Cara's the better looking one in our relationship but I am the luckiest!
T xx