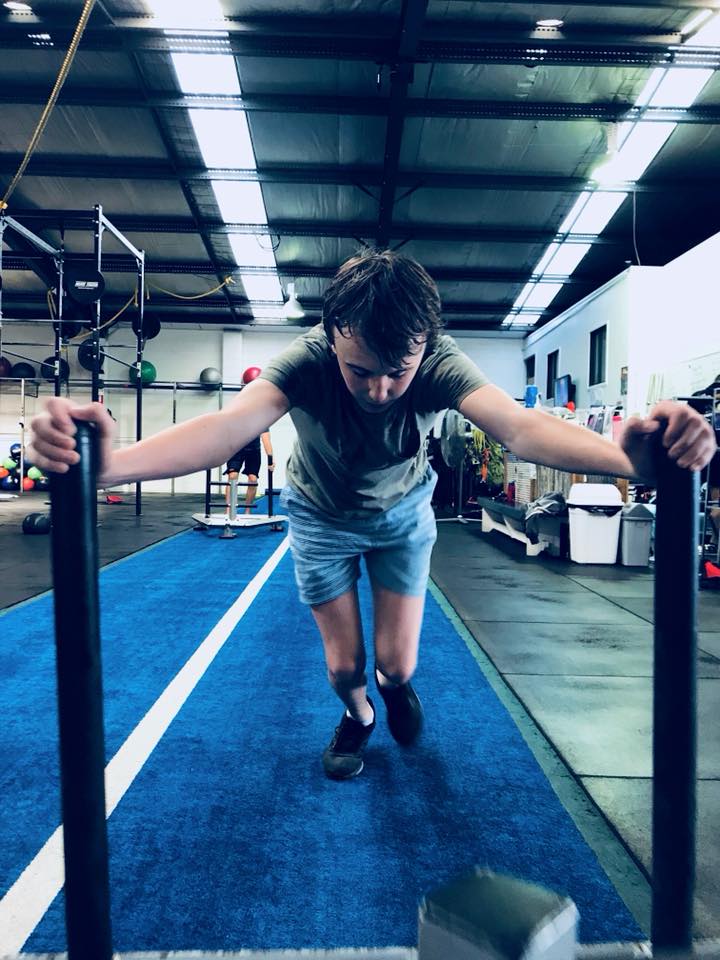 Do you give 100%?
It's not about how much work you put in, but the intensity that goes into that session every time, right?
One of the toughest learnings I've had is the struggle between volume and intensity. Every day I see members at the gym wanting to smash themselves. I myself have been there and done that. I've had a lot of time to reflect over the past few years both for the gym and myself. Not feeling happy with my own performance at times, I was left asking myself why? I felt that even though I was training for hours, I was only giving half my effort. Cutting myself short.
In the past I had trained twice a day, hitting everything from 90 minute runs, to 60 minute HIIT sessions, to accessory work all in one day. In my mind I was getting fitter, faster and stronger, I mean how could I not be? I was training 2-3 hours a day. But looking back, where was the intensity? How many "wholly f*%k" moments did I actually have, the "feeling" we want to give to you all every day, the feeling that gives us that love/hate relationship with our sessions, the moment your lying on your back, staring up at the ceiling asking yourself what the hell just happened?
Don't mistake volume for intensity. For the general member, us mere mortals, that just want to improve our life, get a bit fitter or stronger and have no intentions of being an elite athlete, training an hour a day with intensity and purpose, instead of 3 hours a day, is plenty. Don't mistake volume for intensity and end up training 90 minutes at 60% when a 60 minute session at 90% would have been more valuable.
Our priority at Fighting Fit is to prompt a response from you through smart training. Not running you into the ground by overloading you with crazy amounts of volume, hence the reason our sessions are 60 minutes max. We have a lifetime to get good at this "fitness" thing people! Purpose, intensity and simplicity is all we need in our training. If we have the skill level then a 15 minute AMRAP of Squat Cleans and Burpees will bring intensity, but if we spend that 15 minutes looking at the bar then the intensity is gone. We always encourage you to scale appropriately by using the first 20-30 minutes of the session warming up, working on skills and strengths, and then the next half to get the heart rate going and blood pumping!
When you can say that you are hitting every session with purpose and the right type of intensity, getting more of those "wholly f*%k" moments back, then you will know you are getting fitter, faster and stronger. It's our job as your trainers to guide you everyday. Let us show you the way by making sure you train with a purpose and are able to elicit a positive response in every session. This is what separates us from commercial gyms. Variety and encouraging the right amount of intensity gives us our unique value. There are three things I always ask myself when programming for you guys. Is it simple? Is it challenging? Is it fun? If it's yes, yes and yes … then down it goes. We want you training as often as you can. We love seeing you in the gym regularly. Some days just showing up, having a laugh, doing some foam rolling is all the intensity you need.
Remember that you don't need harder sessions, you just need to go harder in your sessions people!
For those that have been out of the gym over the past few weeks … away on holidays … sleeping in or just taking a break … check out these two little beauties that left our guys with that "wholly f*%k" feeling! (Generally found while lying on the floor after a set of killer pushups….and that was the rest break!)
STARTER x 3
5 Walkouts – 5 Shoulder Rotations – 10 Shoulder Taps – Pec Stretch – Kipping Practice
SKILL – Kipping Pullups/Jumping Pullups
5 x 3 Working
SESSION
100 Shoulder to Overhead 30/20kg
80 Bentover Rows
60 Hang Cleans & Jerks
400m Run after each exercise
20 pushups every time you rest
STARTER x 2
10 Cal Assault Bike or Prowler Push – 10 Step-ups – 5 Wall Balls – 5 Deadlifts @ 40 -50kg – 5 Burpees
SESSION
27-21-15-9
Calories on Assault Bike @ 70/60rpm or above OR Prowler Push (3,2.5,2,1.5 Laps)
Wall Balls @ 9/6kg
27-21-15-9
Calories on Rower
Weighted Step-ups @ 15-20 & 10-15kg
27-21-15-9
Burpees Over Bar
Deadlift @ 70/50kg