Ladies Dirty Day Out
29th June 2014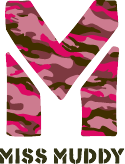 Ladies Dirty Day Out
Miss Muddy is a women's only obstacle race that puts the fun back into run. It is all about celebrating women and searching for the little miss in all of us. It is not just about fitness or motivation; it's all about women supporting women in a fun non-threatening environment. No physical fitness level is required, you are encouraged to come as you are and let your hair down with your favourite fillies. And the best thing is, its all for a great cause, a portion of proceeds benefits women for women charities.
What to expect on the day
4 – 6 km of Mud and Fun!  Run, Walk, Crawl or Climb. There is no denying you will get down and dirty with obstacles like 'The Muddy Mile' and 'Colour Cannons'. You will laugh until you cry as you meander your way through the obstacle course that is designed to push you just outside of your comfort zone.
After the event
It's time to party with the girls!
Grab your bag from the bag drop zone, head to the shower station clean yourself up (as best you can) and get changed and ready to party.
Entertainment Peruse and shop at the markets and enjoy live music from Ministry of Sound.
Refresh & Refuel with some delicious food and wash it down with an icy cold beverage or 2.
How do I sign up
Go to www.missmuddy.com.au and during the registration process you will select 'Join Team'. Simply enter "Fighting Fit Bitches", complete payment and you will be apart of the team.
Kick off is at 2.30pm so you need to be there 90 minutes before.